ol{margin:0;padding:0}table td,table th{padding:0}.c14{border-right-style:solid;padding:5pt 5pt 5pt 5pt;border-bottom-color:#000000;border-top-width:0pt;border-right-width:0pt;border-left-color:#000000;vertical-align:top;border-right-color:#000000;border-left-width:0pt;border-top-style:solid;background-color:#336699;border-left-style:solid;border-bottom-width:0pt;width:468pt;border-top-color:#000000;border-bottom-style:solid}.c8{padding-top:0pt;padding-bottom:0pt;line-height:1.15;orphans:2;widows:2;text-align:left;height:11pt}.c2{background-color:#ffffff;padding-top:0pt;padding-bottom:0pt;line-height:1.15;orphans:2;widows:2;text-align:left}.c15{padding-top:0pt;padding-bottom:18pt;line-height:1.15;orphans:2;widows:2;text-align:left}.c3{padding-top:0pt;padding-bottom:0pt;line-height:1.0;text-align:left}.c5{text-decoration:none;vertical-align:baseline;font-family:"Arial";font-style:normal}.c10{border-spacing:0;border-collapse:collapse;margin-right:auto}.c13{color:#000000;font-size:12pt}.c7{color:#ffffff;font-size:14pt}.c17{font-size:10pt;font-style:italic}.c16{max-width:468pt;padding:72pt 72pt 72pt 72pt}.c19{color:#ffffff;font-size:18pt}.c12{color:#000000;font-size:11pt}.c0{color:#333333;font-size:12pt}.c11{color:#337ab7;font-size:12pt}.c6{font-weight:400}.c1{font-weight:700}.c18{height:11pt}.c9{background-color:#ffffff}.c4{height:0pt}.title{padding-top:0pt;color:#000000;font-size:26pt;padding-bottom:3pt;font-family:"Arial";line-height:1.15;page-break-after:avoid;orphans:2;widows:2;text-align:left}.subtitle{padding-top:0pt;color:#666666;font-size:15pt;padding-bottom:16pt;font-family:"Arial";line-height:1.15;page-break-after:avoid;orphans:2;widows:2;text-align:left}li{color:#000000;font-size:11pt;font-family:"Arial"}p{margin:0;color:#000000;font-size:11pt;font-family:"Arial"}h1{padding-top:20pt;color:#000000;font-size:20pt;padding-bottom:6pt;font-family:"Arial";line-height:1.15;page-break-after:avoid;orphans:2;widows:2;text-align:left}h2{padding-top:18pt;color:#000000;font-size:16pt;padding-bottom:6pt;font-family:"Arial";line-height:1.15;page-break-after:avoid;orphans:2;widows:2;text-align:left}h3{padding-top:16pt;color:#434343;font-size:14pt;padding-bottom:4pt;font-family:"Arial";line-height:1.15;page-break-after:avoid;orphans:2;widows:2;text-align:left}h4{padding-top:14pt;color:#666666;font-size:12pt;padding-bottom:4pt;font-family:"Arial";line-height:1.15;page-break-after:avoid;orphans:2;widows:2;text-align:left}h5{padding-top:12pt;color:#666666;font-size:11pt;padding-bottom:4pt;font-family:"Arial";line-height:1.15;page-break-after:avoid;orphans:2;widows:2;text-align:left}h6{padding-top:12pt;color:#666666;font-size:11pt;padding-bottom:4pt;font-family:"Arial";line-height:1.15;page-break-after:avoid;font-style:italic;orphans:2;widows:2;text-align:left}
FR. 1655* $5 1953 Silver Certificate *-A Block Gem PMG CU66 EPQ Star
Excellent paper quality. Punch through embossing. Bright and bold colors. Fantastic eye appeal. Razor sharp and crisp. Solid for the grade. PMG Grade: Gem CU66 EPQ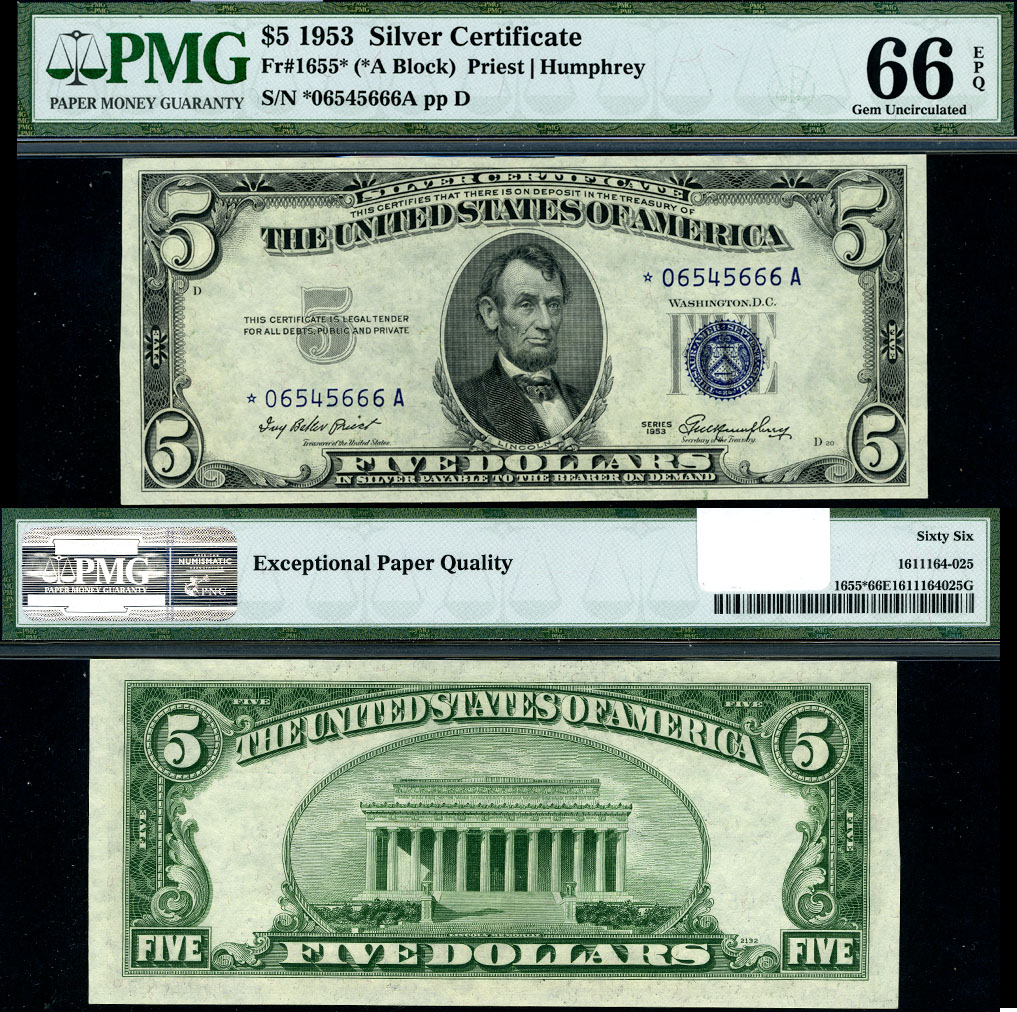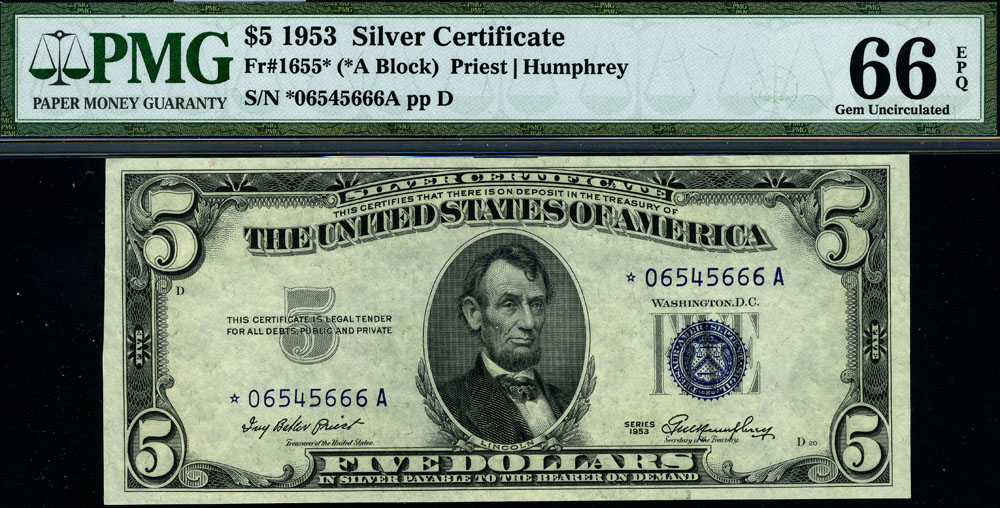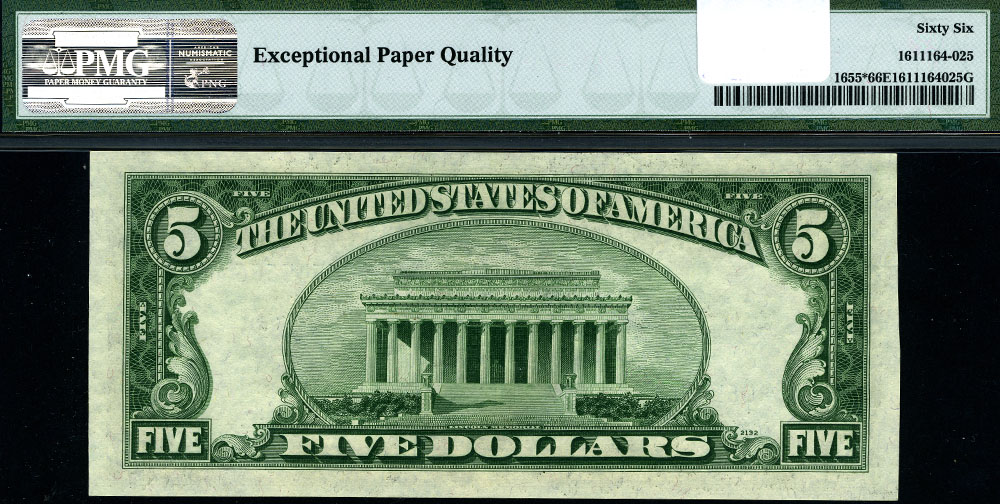 Frequently Asked Questions
Q: Is the picture showing the actual coin I'll receive?
A: Yes, you will receive the exact coin pictured, unless stated "STOCK" in the title/description. If STOCK, you will receive a coin of the same type and quality (Year, Mint, Grade, Holder/Label)
Q: Has this coin been cleaned?
A: If we believe the coin underwent any sort of cleaning in the past, we will specify in the listing description. Please note, we deal with a large inventory, and in some rare cases we may miss this detail.
Q: Do you accept offers?
A: Unfortunately, on this platform, we are unable to further discount our items due to incurred fees and handling expenses.
Q: Do you guarantee that a third party grading service will holder a coin I buy from you?
A: Grading is a subjective opinion that is based on knowledge and experience in the industry. With that said, The Executive Coin Company is confident that our grading is accurately represented with over 50 years of numismatic experience. However we can not guarantee that the particular grade assigned to a sales item will be the same given at any grading service. We suggest that you review the item, and based on your opinion and knowledge, decide if you want the item to be certified by a third-party grading service.
Q: How is my package shipped?
A: Your items are carefully packaged and fully insured. All packages are shipped via USPS insured mail and are insured for their FULL VALUE. Packages over $500 are sent with signature required.
Q: What is your Return Policy?
A: We want you to be happy with all of your purchases from The Executive Coin Company. If you're not happy with an item received from us, we will provide a full refund of the purchase price on items returned to us within the eBay return window time-frame. Any coin or currency removed from its original holder is considered sold. Sealed Mint products must remain sealed and in good condition. Upon receiving the item in good condition, we will issue a prompt refund.
Since 1990, The Executive Coin Company has strived to provide excellent customer service and quality products. If you have any questions about this listing, please feel free to send us a message and we will respond in a timely manner. Have a great day!