Appraised at $11,000 offered for your consideration is a Gorgeous Designer 1.59ctw TACORI 18K White Gold Princess Cut 3 Stone Diamond Engagement Ring.
One of the nicest looking premium designer rings you will find anywhere in this size and price range. Tacori is a market leader in premium designer jewelry that exudes elegance with some of the best craftsmanship and presentation available anywhere. Tacori's description for this piece is as follows: "A trailblazing style on a classic princess-cut solitaire. Channel-set princess-cut diamonds give the ceiling of the band a streamlined look, and crescent silhouettes make this a signature Tacori piece".
The engagement ring features a newly mounted Very Brilliant EGL USA certified and UGS appraised 0.95ct Carat SI1 Clarity and I color Princess Cut Earth Mined Diamond. 110% Eye Clean and very white with no detectable hint of color. The stone has a Very Good polish & Symmetry. Zero black. No haze, no fog, no oily appearance. Excellent light return and sparkle, very clean SI1 (impossible to see any inclusions unless you examine the stone under strong magnification).
Tacori is a market leader in premium designer jewelry with some of the best craftsmanship and presentation available anywhere. The size of the center stone is well suited to this ring and really shows it off well. One of the nicer looking designer round brilliant diamond solitaire rings you will find in this size and price range. Inset into the ring is an impressive 0.64 carats of SI/VS Clarity diamonds and G-H color; add the 0.64cts inset to the 0.95ct center stone and you are at 1.59 total carat weight. The ring itself retails for $4330 without the center diamond, add the center diamond (appraised at $6320) and you are knocking on $11,000 as per the appraisal shown below which was done by a distinguished former lead appraiser with Birks.
The Engagement Ring is currently Tacori stock size 6 as made. We provide resizing on a complimentary basis. Resizing this ring is very straight forward and can be done quickly. All paperwork shown below is included with your purchase and so is a Tacori ring box.
Gem of a Diamond deals in all natural stones, no clarity or color enhancement of any kind. We supply Jewelry Stores and Private Clients with diamonds, emeralds, rubies and sapphires at or below wholesale pricing. We ship worldwide via international Fed Ex courier and EMS Express.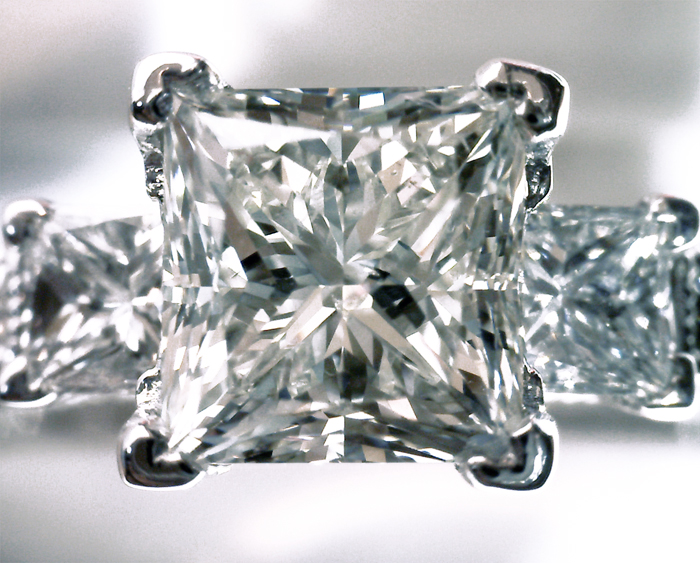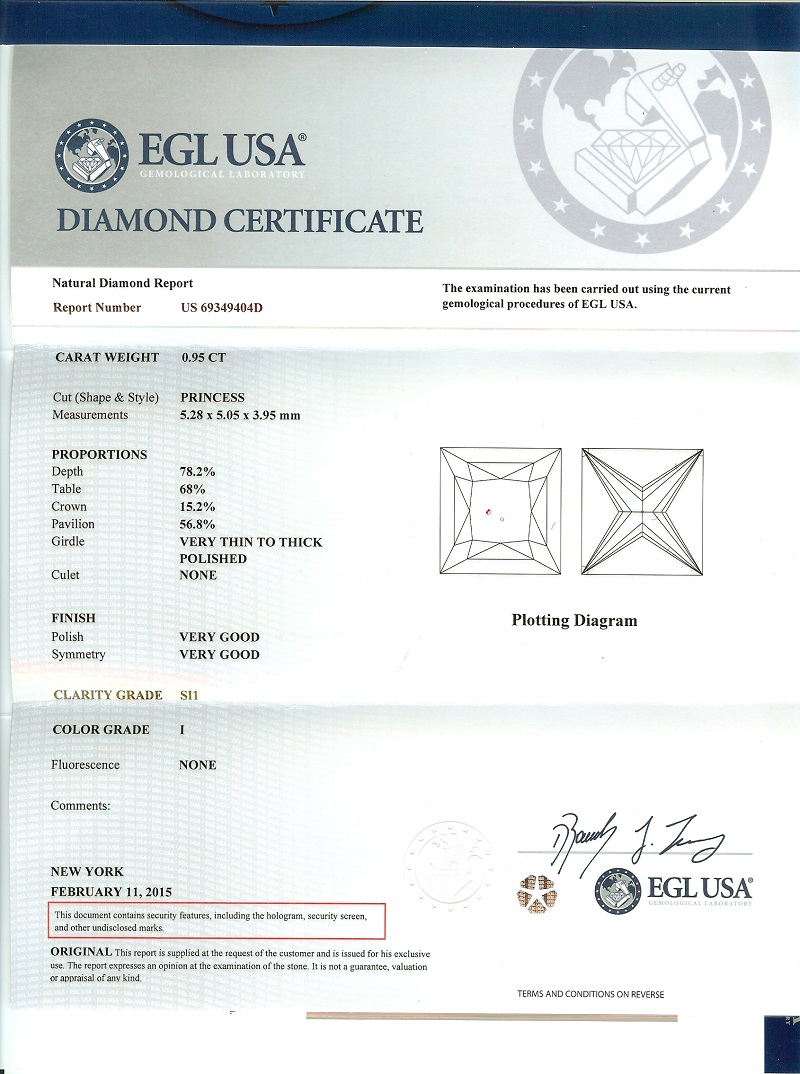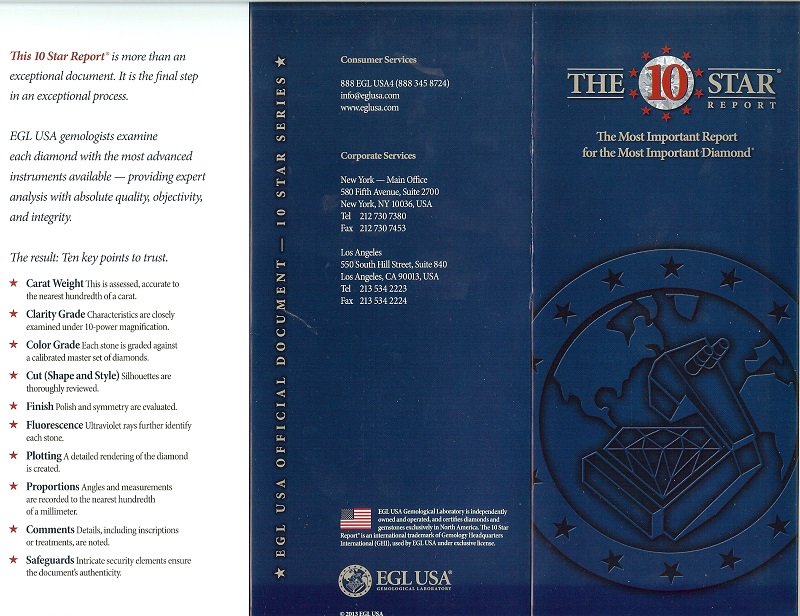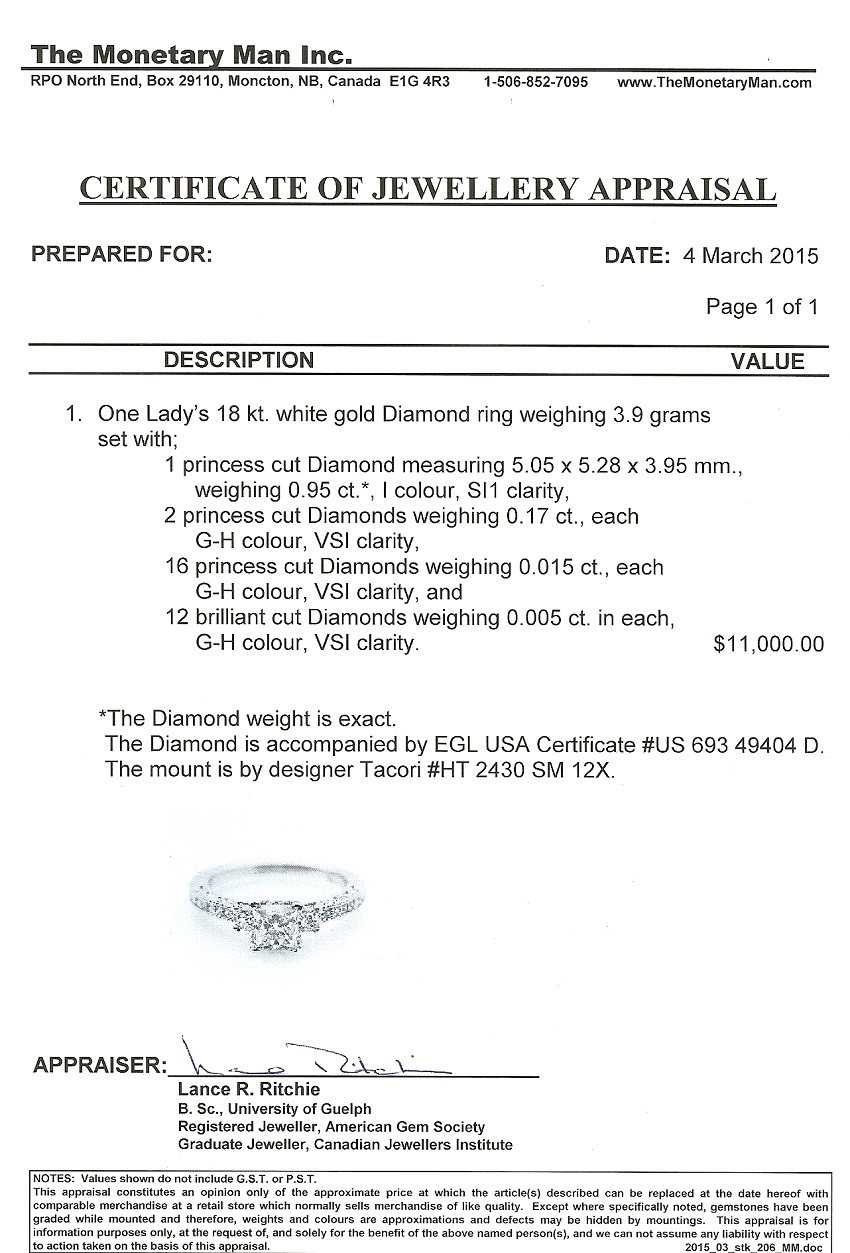 Appraisal shown below values the center diamond only, not the ring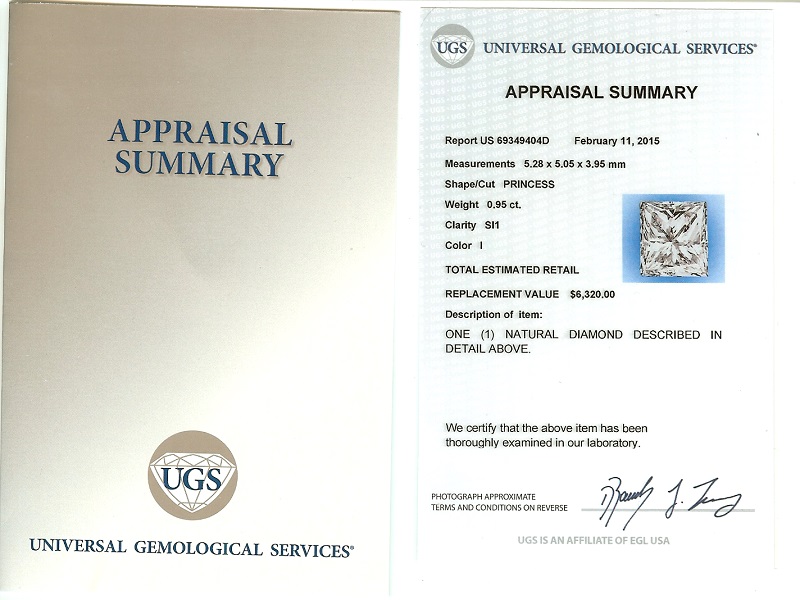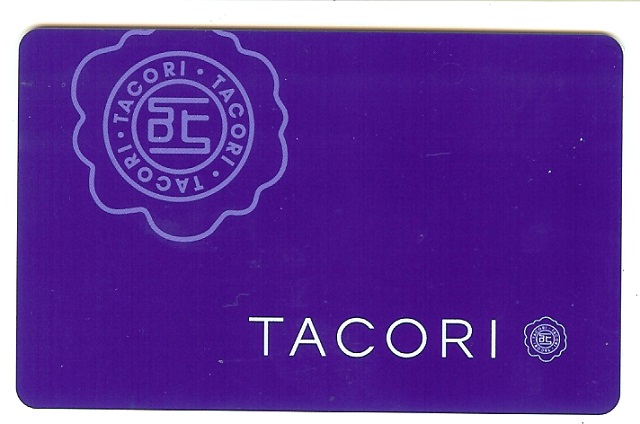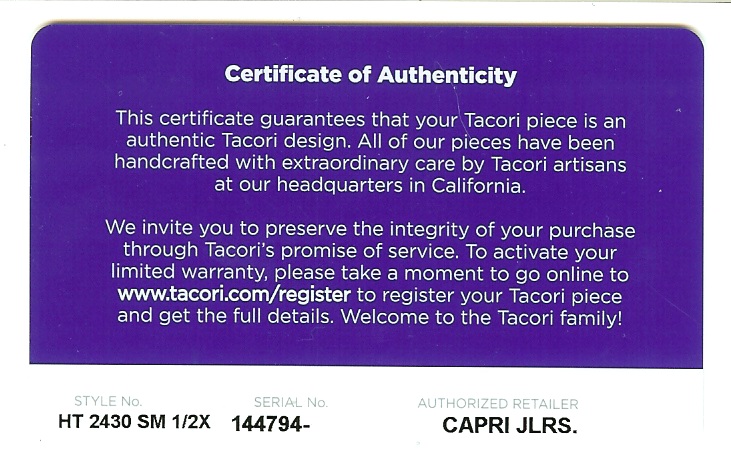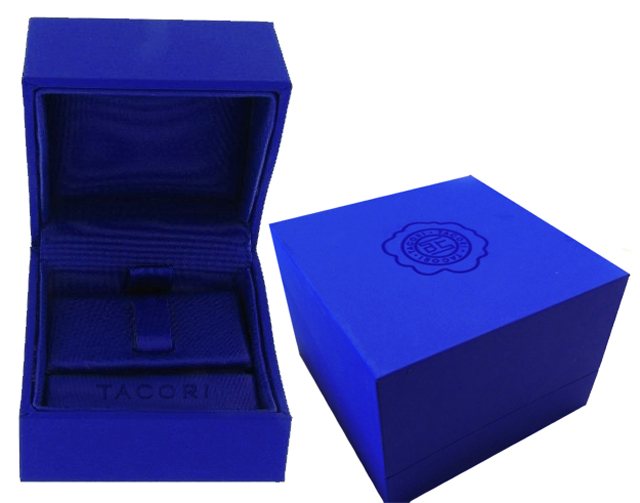 COMPANY INFO, WARRANTIES, SHIPPING AND PAYMENT
About Us: Gem of a Diamond is wholly owned by The Monetary Man Incorporated which is an International Diamond, Precious Gem & Fine Jewelry Wholesaler. Dunn & Bradstreet DUNS# 246858737. We are experienced multi generation gem dealers and professional jewelers dealing in GIA & EGL Laboratory Certified Natural Diamonds and Precious Gems which are sold on a wholesale basis to institutional clients such as retail Jewelry stores and also to private clients like yourself. We are active members of key international gem trading networks and are well studied in lab certified 100% natural, untreated, earth mined diamonds, emeralds, rubies, sapphires and precious metals. By dealing with us you will be cutting out more than one middleman as we typically buy polished precious gems soon after they are cut from rough and have not endured several levels of pricing mark-up as they work their way through the supply chain.
We take the utmost care to describe each item accurately and to provide quality images of our inventory. This high degree of diligence is reflected in our flawless, deep 17 year eBay Internet presence. We strive for flawless transactions, instant communication and conduct at highest levels of commerce. We believe each transaction is a reflection of who we are. We are engineered to provide you with an optimum customer service experience and a risk free transaction.
Gem of a Diamond Warranty & Guarantee: Gem of a Diamond proudly stands behind our products and offers a full lifetime warranty. We guarantee our gemstones and jewelry to be as described in our description and supporting documentation. If gemstones or jewelry are not as stated we offer a full return policy including reimbursement of any shipping costs you incurred. This warranty is based on the condition of the item at the time of sale. This warranty remains in effect during your lifetime for so long as you own the gemstone or jewelry.
Shipping: Purchases, once paid for, are shipped immediately unless you have requested customization/resizing which we turn around very quickly. We ship worldwide ensuring a smooth cross border transaction. We ship discretely via FED EX courier, DHL, EMS Express or by registered post; whatever method best suits our clients circumstances after discussing it with them. We do not mark up shipping costs, we charge whatever the carrier charges, nothing extra for handling.
Payment: All major forms of payment accepted including Paypal. Escrow with inspection periods offered and flexible No Interest Monthly Monthly Payment Plans offered through Paypal's "Bill Me Later" Plans are available upon request; we ship once the final payment has been made.
Taxes: No Taxes will be added to your total, we absorb any applicable taxes.