Extremely Rare Pallasitic Peridot Extraterrestrial Gemstone from a Meteorite: 0.56 Carat GIA Certified Shield Cut with no treatment of any kind, bright and transparent.
Gem of a Diamond, owned by The Monetary Man Inc., deals in all natural stones, no clarity enhancement of any kind. We supply industry professionals and private clients around the world with premium quality gemstones and fine jewelry. We are partnered with some of the finest suppliers in the world. We offer international delivery and full money back guarantees, inspection, approval periods and Escrow. We are distinguished 14 year eBay members with a flawless deep record including many high value dealings and with very rare 9 figure approval limits granted by eBay to conduct multi million dollar transactions.

The gem offered here is a stone that is truly out of this world, offered is an exceedingly Rare 0.56ct Pallasitic Peridot Extraterrestrial Gemstone from a Meteorite that landed impacted with planet earth. The stone is a "Shield Cut" or a "Triangular Cut". This Gem is Certified by World Leading Lab GIA as being 100% untreated, natural and transparent. It is also certified by GIT Thailand and both lab reports are included with the purchase.
The stone comes with GIA report# 5191980623 and GIT report# 11.11.03.14434
The images shown below are of the actual stone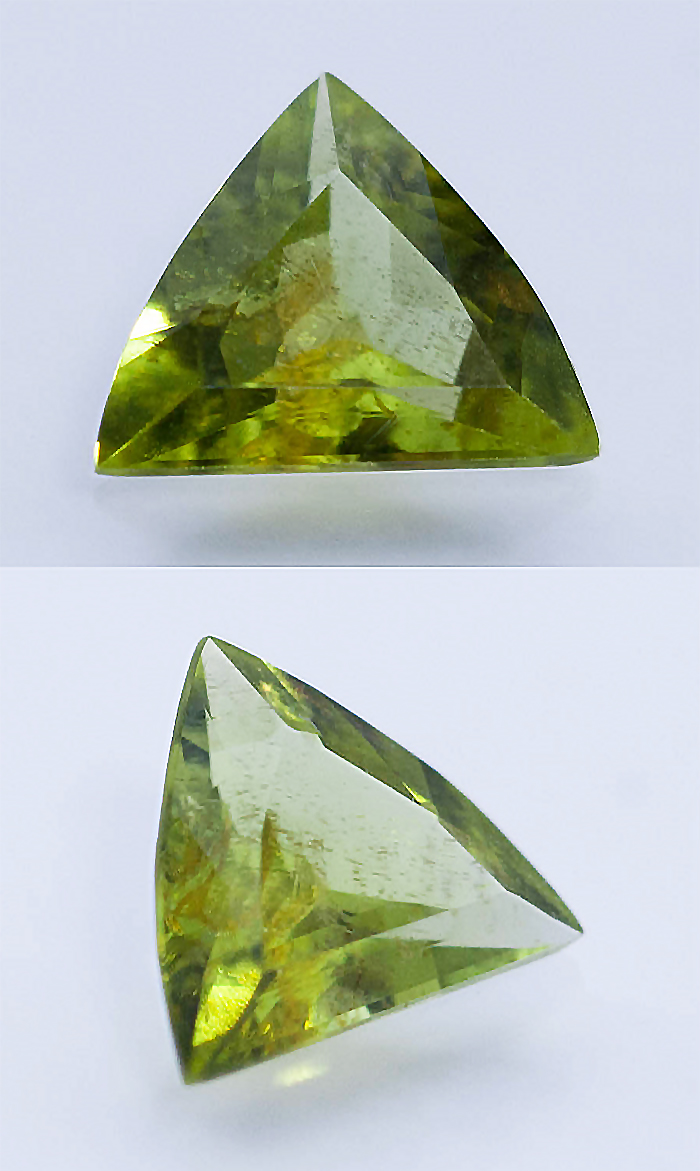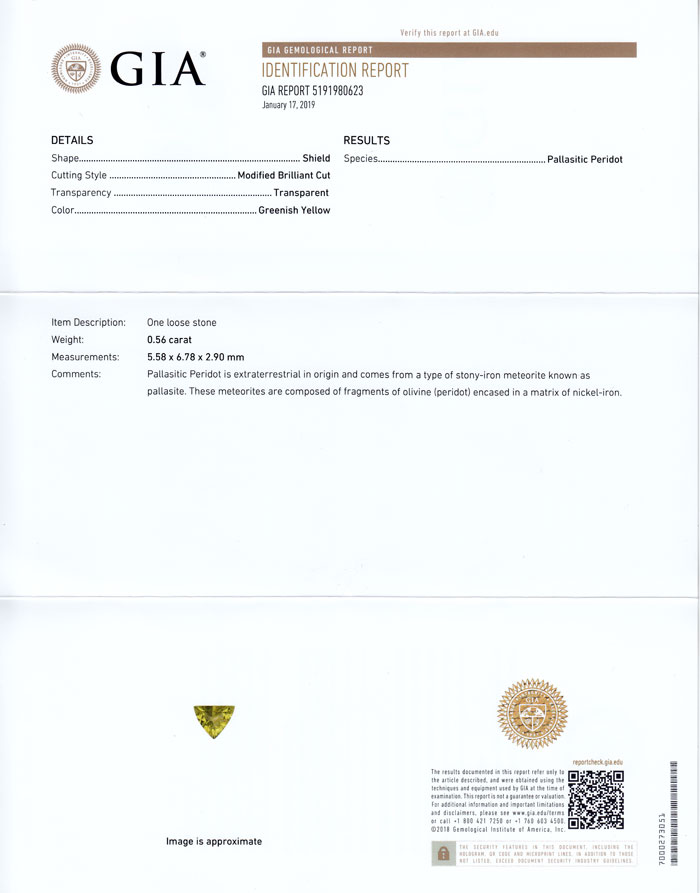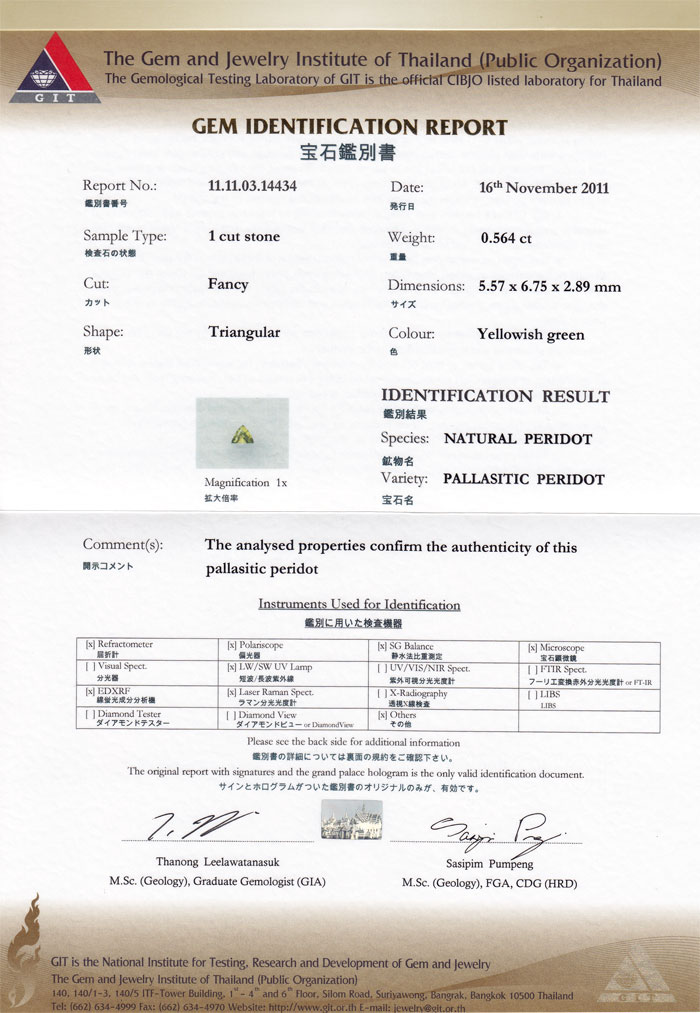 SHIPPING AND PAYMENT TERMS

About Gem of a Diamond: We are experienced multi generation gem dealers and professional jewelers dealing in GIA & EGL Laboratory Certified Natural Diamonds and Precious Gems which are sold on a wholesale basis to institutional clients such as retail Jewelry stores and also to private clients like yourself. We are active members of key international gem trading networks and are well studied in lab certified 100% natural, untreated, earth mined diamonds, emeralds, rubies, sapphires and precious metals. By dealing with us you will be cutting out more than one middleman as we typically buy polished precious gems soon after they are cut from rough and have not endured several levels of pricing mark-up as they work their way through the supply chain. Gem of a Diamond is wholly owned by The Monetary Man Incorporated. Dunn & Bradstreet DUNS# 246858737.

Gem of a Diamond Warranty & Guarantee: We take the utmost care to describe each item accurately and to provide quality images of our inventory. This high degree of diligence is reflected in our flawless, deep eBay Internet presence which spans more than a decade. Our all expenses paid, no hassle, 14 day return policy is unsurpassed. Gem of a Diamond proudly stands behind our products and offers a full lifetime warranty. We guarantee our gemstones and jewelry to be as described. We strive for flawless transactions, instant communication and conduct at highest levels of commerce. We are engineered to provide you with an optimum customer service experience and a risk free transaction.

Payment: We accept all major forms of payment

Shipping: We ship worldwide via FED EX Courier, DHL, EMS Express & Registered Post. We ensure a very fast, secure and smooth cross border transaction with minimal if any customs hassles.

Customer Service: Please email us through eBay and we will provide an immediate response.